This weekend was chock-o-block full of hobby related things. First the fiber hunt we got an email from one of our favorite LYS
Common Thread
that they were having a yarn sale (yippie). So ItShe and I got on the train and went up to Encinitas to met Grape at the shop for the sale. We had to get the lay of land since some things were moved around do to the sale. The back room was filled with about 10 laundry baskets filled of fiber that was 30% off, some very nice stuff. I think that ItShe got some nice yarn to make leg warmer-ish thing with. If nothing in the back caught your eye not to worry your entire purchase was going to be on sale. Once you decided what you wanted you picked a balloon and inside each balloon was a tiny piece of paper that told you what your discount was (from 10% -50%). I will say that there were some serious discussion and very laborious decision making was involved for all. I was really proud of us that we took so much time to make sure we were getting things with a purpose not just because it was "on sale". And the big yarn news of the day was something that I think ItShe will tell you all about, let's just say it kicked the Koigu door WIDE open.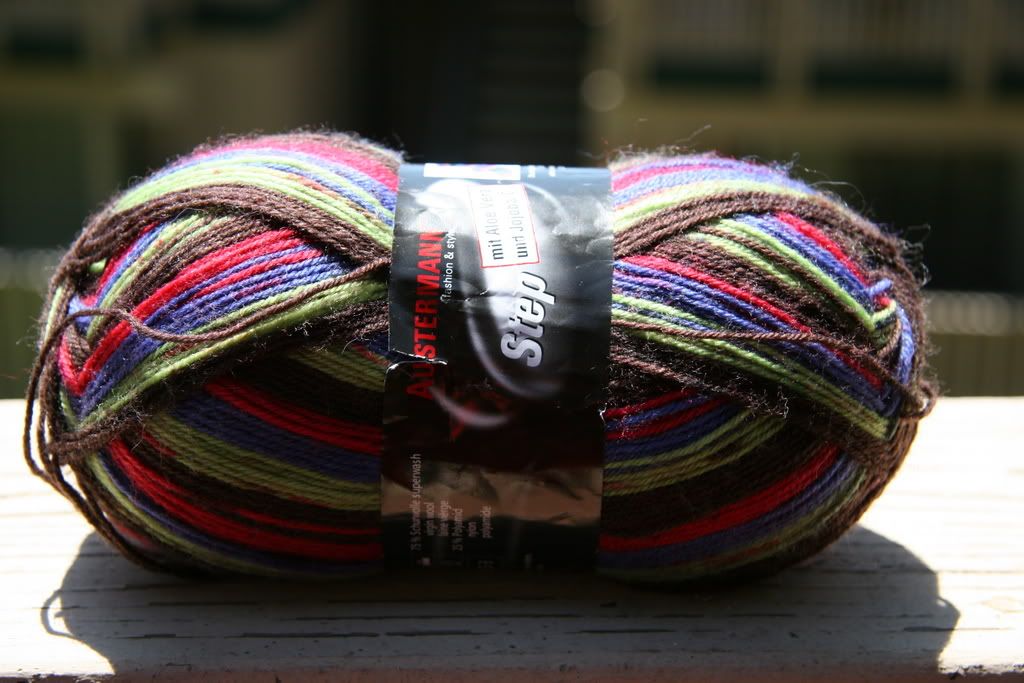 I decided to get two different things: the first thing was Austermann Step a sock yarn with aloe and jojoba in the yarn, and the second one was Cascade Quatro. The Step will be socks, I don't have a pattern in mind but I'm sure I will find one, if not my "vanilla pattern" with do just fine.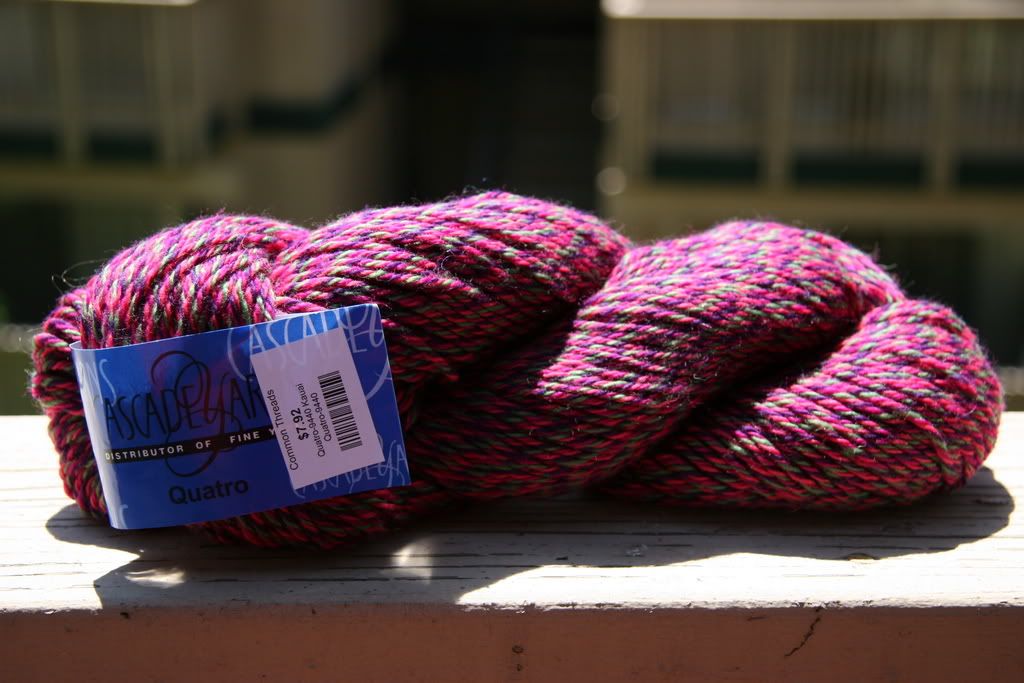 The Quatro which was a really good deal, will be knee high socks, don't have a pattern either, but I will find one, the yarn is 4 ply: melon, green, magenta, and purple. I have been attracted to this yarn for over a year and never knew what I would do with it, but knee-highs are perfect.
Then the three of us went to the E Street Cafe to knit and grab a beverage, until the 5:15 train, we got on the train, got back to town and headed to my house so ItShe could change clothes for the movie. We had made plans with friends to go see Funny Face at
Cinema Under The Stars
it was going to be such a good time. Yes it would have been a great time if only they hadn't sold out of tickets 5 minutes before we got there. Super huge bummer!
We quickly regrouped decided to have sushi at San Sai (hand roll combo) and go back to my house and watch Shawn of the Dead. It's one of ItShe's favorite movies, and I can see why, it was the same people that made Hot Fuzz. I loved it and even though we didn't get to see Audrey Hepburn and Fred Astaire and ItShe's perfect outfit for the movie I think we recovered well.
Then it was off to bed for me because I had to be ready to roll at 5:30 am to go to cars and coffee in Irvine. Now most of the time car weekends and yarn weekends aren't the same but this weekend Big A had to work and I wanted to see the new Dodge Challenger (and take picture so he could see it too) so his friend R said that he would take me to Irvine to see it.
And here it is . . . I'm in love!